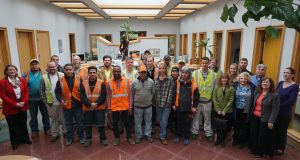 Good Point Recycling
Division of American Retroworks Inc.
Good Point Recycling is a nationally-recognized electronics recycling company and a respected expert in "Fair Trade Recycling." We are one of the region's leading "e-waste" recycling operations, based in Middlebury, Vermont.
Electronics and Solar Panel Recycling
470 Exchange St., Middlebury VT 05753 and
175 E. Ashland St, Brockton, MA 02302
NEW Retail and Online Sales
55 Middle Rd, Middlebury VT 05753
Ethical Electronics Recycling
Our recycling services are ISO-certified, respected, vetted, economical, bonded, insured, legal, responsible, and guaranteed.
Commercial Business Collections
We offer rapid and convenient service to businesses seeking sensible solutions for their surplus electronics.
Municipal Collection Trailers
Our staffed collection trailers provide transportation for your bulk electronics.
Special E-Waste Event Recycling
Our company has been involved in one-day "e-vent" collection programs since the 1990s.
Free TV and PC Recycling
Free recycling of PCs as well as LED, CRT, LCD, and plasma displays.
Hard Drive Erasure and Destruction Services
Secure hard drive management, chain of custody tracking, and documented destruction.
Computer Refurbishing
Reuse and repair is vital to Good Point Recycling's business model.
Job Training
We offer on-site job training for positions at Good Point Recycling.
Our Region
From our Vermont location, we service: Connecticut ∙ Maine ∙ Massachusetts ∙ New Hampshire ∙ New York ∙ Rhode Island ∙ Vermont
American Retroworks West
For "E-Waste" Collections in Arizona and Mexico, we have partnered with a women-owned cooperative in the mountains of Sonora, a manufacturer take-back program, and a digital divide program in Arizona. Click here to learn more.